Location: Metro Adelaide

The Trak Cinema
The Trak Cine Centre was opened on December 26 1975, by Steve Buge – a venture built off of his successful re-opening of the Lockleys Soldiers' Memorial Hall a couple of years prior.
The opening features were Jeremy and Where The Lilies Bloom.
Programming of these initial days was relatively mainstream and of a wide audience appeal.
Unfortunately, this programming policy received mixed reactions in the eastern suburbs, and the cinema closed in the late 1970s.
Barry Loane
Barry Loane
grew up on a diet of films from Hollywood in Sydney's beach side suburb of Manly, with four movie
palaces within a five-minute walk from his home. He had an affection for alternative films, independent or, as he liked to call it, "World Cinema".
In 1978 when living in Adelaide, he visited a run-down and disused cinema in the eastern suburbs named The Trak. It was the beginning of what was to be a lifetime devotion for him and Adelaide movie-goers.
He was warned against showing independent and foreign language films on a regular basis. His first big test came when he screened a German Documentary "
HITLER – A CAREER
".
It proved to be a huge success with audiences. He then extended his six month lease and established The Trak Cinema as Adelaide's first "boutique" cinema for discerning movie-goers.
"
The Gods Must Be Crazy
" was released in Australia in August 1984. While all other cinemas in Adelaide had turned it down,
Barry
knew how Adelaide audiences would react. "
The Gods Must Be Crazy
" was so successful it ran for a full year at
The Trak Cinema
. It's success allowed him to experiment with even more alternative and cutting edge material, including the hit film
A Clockwork Orange
.
Renovations & Improvements
In 1989, the Toorak Village Arcade, in which The Trak Cinema was tucked away on the second floor, changed owners. With new owners came a new, long lease, and the reliability that Barry needed to undertake some much-needed upgrades.
In 1989, Barry extended The Trak Cinema to two screens. It proved extremely popular with patrons, giving them a greater selection of programs from which to choose.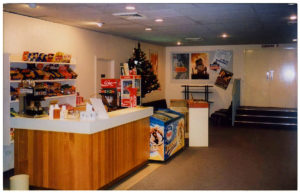 The Trak
closed from July 1 to July 19 1990, and $100,000 was spent on new seating, a new red colour scheme, extended foyer, a larger screen and new projectors and a new stereo sound system.
1990 also saw the opening of Trak Video, making The Trak Cinema a one-of-a-kind operation in Australia, combining cinema and home entertainment.
In 2003, after twenty-five years at the helm, Barry retired due to ill health.
Barry passed away peacefully at his Adelaide home on Sunday, April 9, 2017. He was 79 years old.
The Two Michaels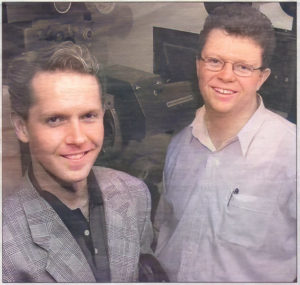 The Trak Cinema
was purchased by business partners
Michael Schneider
, already a decade-long employee of
The Trak
, and
Michael Todd
, who until that point had been managing the
Capri Theatre
.
The Trak continued as Adelaide's favourite arthouse cinema for a number of years before the next big change…
Early incarnations of digital cinema were being experimented with in the late 2000s. It led to the installation of one of the first generations of digital cinema – commonly referred to as e-cinema – at The Trak.
Because digital film was more economically viable than the old 35mm format, the two Michael's added a third, digital only cinema.
The death of a long time friend of Michael Todd was the catalyst for the breakup of the two Michaels' partnership and led to The Trak Cinema's eventual downfall in early January 2019.
Enter Adam Towill
Longtime cinema historian and enthusiast, Adam Towill, had become aware of the unfolding circumstances, and arranged access to the minimally documented, and now disused Trak Cinema in order to photograph it, assuming that it would never reopen.
What started out as a mission to photograph the final moments of one of Adelaide's well-liked cinemas, quickly became a mission to save it.
After poring over sales figures and predicting absolute worst case scenarios, Adam gained possession of The Trak Cinema on February 14 2019.
Adam continued Barry's tradition of screening alternative films.
Australia Day
2020 saw the first use of film
The Trak
had seen since its conversion to entirely digital projection in 2013 – a 16mm print of an Australian documentary called
The Back of Beyond
, followed by the journey of
Tom Kruse
,
The postman
who serviced the towns and residents along the
Birdsville Track
.
The Beginning of the End
News of a strange
new virus
emerging in
China
was beginning to make headlines. One month later, international travel restrictions were being put in place, distributors were suspending films, and attendances, not just at
The Trak Cinema
, but across the planet, free fell to record lows. Within the first two weeks of March 2020, attendances dropped 90%, and by the third week, mandatory shutdowns were in force.
Initial conversations with the building owners were positive – "don't stress, we'll look after you". But by September the owners were looking at other options. The Trak Cinema was officially asked to close down and to vacate the building by December 1 2020.
After entertaining Adelaide movie-goers for well over 40 years, The Trak Cinema was systematically dismantled, and replaced with a Gym.


Keep up-to-date with what we're exploring in and around Adelaide; and follow us in real time by following our Instagram feed:
awesomeadelaide
or our Facebook feed:
Awesome Adelaide
.
Also, to read more about awesome Adelaide places to explore, take a look at our
Site Map
.