In 1870, Britain withdrew military assistance to its colonies, however there was concern that attacks might be made on Adelaide in order to disrupt shipping. Fort Largs was constructed in 1882-84 as one of a set of forts designed to protect the Semaphore anchorage, the harbour entrance and maritime activities of South Australia against perceived threats from foreign invaders.
The other fort, Fort Glanville, had been built 5 years earlier, south of Fort Largs. A third fort, planned for Glenelg, was never built but the three sites were linked by the construction of Military Road. Now you know why Military Road extends all the way from Glenelg to Fort Largs!
Under Fort Largs lies a network of small tunnels and chambers. Either side of each Armstrong Gun [Figure 1: a, b], tunnels carried artillery shells into large circular chambers [Figure 1: 11, 21]. Within each chamber sat a large carousel on which shells were stored for later retrieval. Manual cranks [Figure 1: 4, 7] within the sub-structure under Fort Largs lifted the shells up to the base of the Armstrong Guns ready for firing.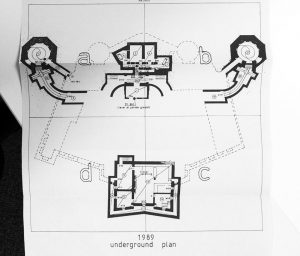 Today Fort Largs survives in near its original state. For external photos of Fort Largs see our previous post or check out the amazing photographs by sedge808 and Andrew Dempster!