New Piccadilly Theatre Opens Tomorrow Night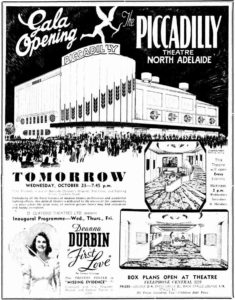 It was Tuesday, October 22 1940 and the newspapers are displaying bright glossy full-page ads to announce the opening of Adelaide's new vogue picture house — The Piccadilly Theatre.
Costing £26,000 (eq. $2.3M in 2022) and incorporating all the latest developments in theatre design, comfort, and presentation, the Piccadilly Theatre, was officially opened on October 23 1940 with a screening of the 1939 musical comedy 'First Love'.
Dan Clifford's Star Theatre circuit
Dan Clifford built South Australia's largest chain of picture theatres: the Stars.

Clifford started by buying the Torrensville Star theatre. He improved and enlarged Hindmarsh Council town hall as the Hindmarsh Star theatre. Clifford made similar deals with other councils to use Thebarton and Woodville town halls.
Clifford also built cinemas such as the Norwood Star, the Capitol at St Peters, and the New Star Theatre at Unley. Clifford leased a hall in Kadina and later ran cinemas in Murray Bridge and Mount Gambier.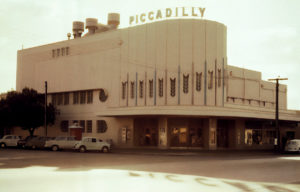 In 1938, Clifford opened his first Adelaide city cinema by renovating the old Central Theatre in Wakefield Street and opening it as the New Star Theatre. The following year, he built the Vogue at Kingswood.
During World War II, Dan Clifford built his two surviving great art deco cinemas: the Piccadilly (1940) in North Adelaide and the Goodwood Star (1941), now the Capri, in Goodwood.
Adelaide's New Picture House
The Piccadilly Theatre was the latest in a chain of 20 theatres established by Mr. Dan Clifford. The theatre originally seated 1,500 patrons in a single auditorium and incorporates an outstanding winding staircase with a striking domed ceiling set off by concealed lighting.
The elegantly carpeted curved staircase leads from the entry level to upstairs, providing views of the outside through porthole and arrowhead-shaped jazz-style amber glass windows.
The high curved façade rises from the O'Connell Street frontage topped by old-fashioned letters spelling out "PICCADILLY".
The circular designs on the theatre walls that many people believed to be artistic decorations are actually a clever ventilation system. Suction vents on the roof draw off the hot air while cool air comes in through these circular "windows".
Saved From Demolition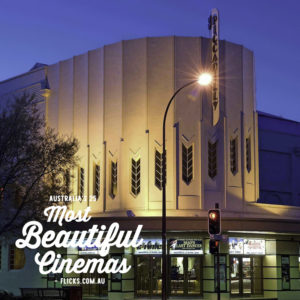 Bob Wallis of the South Australian Cinema Group saved the art deco Piccadilly theatre from demolition by taking it over in 1983.
Wallis added a mezzanine floor and refurbished it as a multi-screen complex that reopened in 1990 naming it the Piccadilly Cinema.
In 2021, the Piccadilly Cinema was named one of Australia's Most Beautiful Cinemas.
Currently, the iconic cinema is closed and undergoing renovations…