House of Psychedelia – the home of Royce Wells
As you explore the dilapidated house on Fullarton Road, the family home of Royce Wells, you'll discover a hidden world of history, spiritual enlightenment, and personal memories.
Locals know the home as the 'House of Psychedelia'.
You enter the front door into a dark corridor. Several pianos line the walls on which old album covers and religious images are pinned.
On the right side of the hallway is the Eastwood History Museum followed by a second room: the Almanda Hideaway.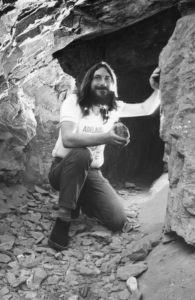 On the left is a large room filled with mining samples and relics Royce collected while a historian with the SA Mines Department in the 1980s.
Eastwood History Museum
The front room was converted into a museum in 1975, two years after his mother died.
He filled it with significant pieces of history of the Parkside/Eastwood/Glenside area – the neighborhood he grew up in.
Royce would share his deep knowledge of the area to anyone who would visit.
Religious artworks, meat hooks, horseshoes, cans & bottles, radios & clocks, pest killers, vases & pantry items, biscuit tins & baking tins, old-style batteries & cleaning ointments, children's games & toys, and more lined the walls.
Almanda Hideaway
The Almanda Silver Mine Complex in Cherry Gardens, South Australia was the most complete mine workings Royce had encountered, with building and mine workings fairly intact.
Royce's appreciation of the mine led him to use the name for the Almanda Hideaway adolescent drop-in music club.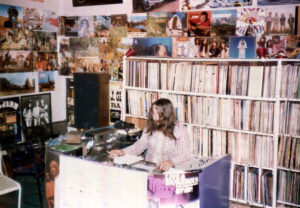 From the mid-60s to the 90s, Royce used this room to entertain members with music from the great composers to modern-day artists.
Weekly he communicated his love of music, mining, and anti-authoritarian culture.
Use of LSD
Royce was an anti-drug law activist and an advocate for the personal use of marijuana, LSD, and other psychedelics.
He stopped at suggesting anyone try illicit drugs, but would often tell people of his experience while under their effects.
He claimed they had given him the deepest spiritual experience of his life.
A kind of awareness that would propel you from the normal confines of your body, to a level where you were conscious of the molecular and sub-molecular structure of all things.
He used the music of Bach, Handel, Vivaldi, and Brahms to give him a deeper psychedelic experience.
During his "trips" he gained a greater awareness of God and described it as 'intense and life-changing'.
Today scientists are investigating the therapeutic effects of psychedelics to reboot the brain and help relieve anxiety and depression.
Royce Wells passed away on 9 December, 2020, aged 78.
His home, the 'House of Psychedelia', was demolished some months later…