Location: Rural Adelaide

No site about exploring around Adelaide is quite complete without a visit to our states favourite amusement park — Puzzle Park. With the on-site caretaker absent, we seized the opportunity to take a sneak-peek inside.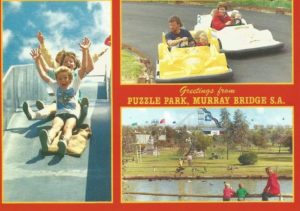 Two Murray Bridge entrepreneurs opened Puzzle Park in 1985 and for 22 years was one of the state's best-loved family attractions, winning a swag of tourism awards.
Mounting public liability costs forced its closure in 2007 and for the last several years it has sat decaying. The ball-pit no longer contains any balls. The giant slide too rusty to use. The merry-go-round stripped of its seats.
Keep up-to-date with what we're exploring in and around Adelaide; and follow us in real time by following our Instagram feed:
awesomeadelaide
or our Facebook feed:
Awesome Adelaide
.
Also, to read more about awesome Adelaide places to explore, take a look at our
Site Map
.