Location: Port Adelaide

The History
The building was built by Robert Sanders in 1849 (making her 169 years old), who named his hotel "Railway Hotel" assuming his pub would be conveniently located at the end of a proposed new horse-drawn train route down Port Road from Adelaide.
The horse-drawn railway line was postponed and when gold was discovered in Victoria the local workforce substantially disappeared to try its luck in the eastern colony.
In March 1851, Charles Calton took over the hotel and renamed it the "Port Admiral Family Hotel" having previously operated the "Royal Admiral" hotel in the city of Adelaide.
When the railway to Port Adelaide finally opened in 1856, the Port Admiral was ideally situated between the railway station and the wharf area; and it was on the busiest intersection in the Port. It attracted large crowds and was continually used for community meetings and special events.
Often the basement would be used as a makeshift morgue when the town morgue was full to capacity with bodies.
Rumour has it that a ghost, dressed in the apparel of the 1880's, makes a regular appearance from time to time.
The Port Adelaide Heritage Precinct
Port Adelaide was declared a State Heritage Area in 1982 because of its extensive collection of late nineteenth and early twentieth century architecture. The precinct contains the most substantial and continuous grouping of commercial and administrative colonial buildings in South Australia.
The Port Admiral, being one of those buildings, is the oldest building in Port Adelaide, and the eighth oldest in South Australia.
Abandoned and Derelict
In 2006, the Port Admiral Hotel fell into disrepair and languished abandoned and derelict for the next decade.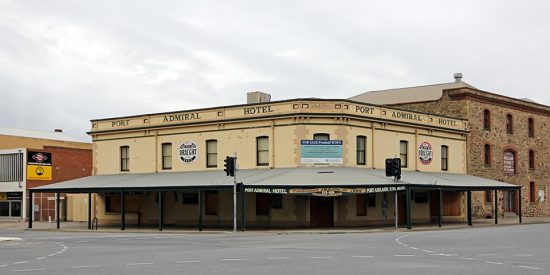 The Makeover
It would have been no small undertaking to take on a project of restoring a building such as this one. Availability of building materials, heritage, building rules, regulations, time and budget would have all been a factor throughout its restoration.
But late last year, after two years of renovation, the historic hotel was re-opened.
And what a makeover it was! In just a few short years, the building was transformed from derelict to modern and functional. No easy feat. Well done to all those involved.

The restoration project is proof that older buildings can be restored to their former glory with a little time, dedication and perseverance.
Keep up-to-date with what we're exploring in and around Adelaide; and follow us in real time by following our Instagram feed:
awesomeadelaide
or our Facebook feed:
Awesome Adelaide
.
Also, to read more about awesome Adelaide places to explore, take a look at our
Site Map
.