The McDonald's West Lakes Part Plane was originally used by the U.S. Air Force from 1942-1944. It was built at Long Beach, California and delivered to the U. S. Army and mainly operated as a "Biscuit Bomber" around North Queensland and New Guinea.
It was assigned nose number 52 and nicknamed "Irene", after the crew chief's wife.
The aircraft had a long history of flying resupply missions based at Port Moresby. On November 3, 1942  it dropped supplies over Kokoda. On February 6, 1943 it flew supplies to Wau.
During 1944 it became a civilian aircraft and leased to Guinea Airways starting on January 29, 1945. From 1945 to 1982 it flew under many operators as a passenger service, aerial photography & mapping plane and as a cargo plane. It had flown a total of 57,648 Hours and used over 100 Pratt-And-Whitney Engines during its 40 years of flying. The DC3 was destined to be scrapped, but the owner of a South Australian McDonald's Restaurant had a better idea.
McDonald's West Lakes purchased the plane on 22nd February 1983 from Setair and repainted it in its previous T.A.A. colours. The restoration took 8 months and 800 man-hours to complete. It was transported by road to Adelaide and installed as part of McDonalds Restaurant at Turner Drive, West Lakes SA on December 3, 1983.
Many people will remember sitting inside 'Irene' at children's parties at the McDonald's West Lakes Restaurant, where the plane sat for most of the 1980s and '90s.
"We wanted to have something unusual," said the restaurant owner. "When we got it, our sales increased 60 per cent."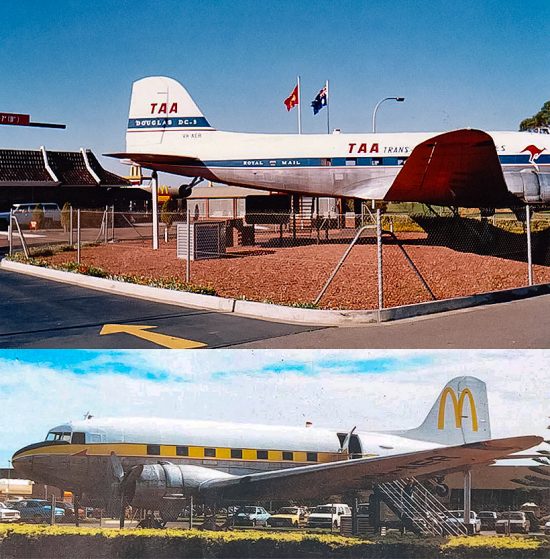 Now, 15 years after the former World War II supply plane stopped being used as a children's party venue, it's close to being restored to its former glory. We were able to get a sneaky glimpse of her a few weekends back.