The building of 'Davaar' was built in 1876 for prominent Adelaide wine and spirit merchant Mr William Johnston, who had migrated from Scotland to South Australia.
The mansion was described as
a handsome residence on South-terrace, consisting of 14 rooms, besides pantries, cellars, larder and bathrooms. The rooms are large and well-ventilated, those on the ground floor being 14 feet from floor to ceiling, and on the first floor 13 feet high. The house is fitted up with every requirement for comfort and convenience. The dining and drawing rooms have handsome bay windows, and ceilings furnished with enriched cornices and centre flowers. The entrance-hall is handsomely finished having at the back portion the main staircase, which is of blackwood. The building and fences cost £4,000.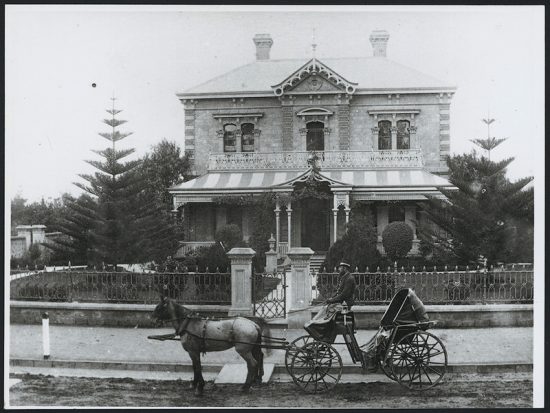 William Johnston lived at Davaar with his second wife Margaret and only daughter Janet
until his death in 1879, after which Margaret returned to live in Scotland, taking Janet with
her, leaving the house in the hands of the Trustees of his estate. Margaret stayed in Scotland but Janet later returned to Adelaide, and after her marriage to Scotsman Dr John Henderson, in 1883, the couple lived in the family home.
The property changed hands a number of times after the Hendersons moved to Mount Lofty in late 1887. Numerous alterations and additions were made to the structure over time and in August 1950, the property was purchased at auction by the Totally and Permanently Incapacitated Association of SA (T.P.I.) for £15,000. The T.P.I. Association provided support for veterans here from 1951 to 2009.
If you've driven past the corner of Hutt Street and South Terrace recently you may have seen the site under development. Davaar House will be restored to its former glory as the lobby for an eight-storey $25 million hotel overlooking the parklands. Currently looking a little worse-for-wear, the ground floor rooms will be converted into the hotel's lobby and meeting rooms while upstairs will be converted into accommodation.
But before that happens, let's take a look inside Adelaide's house of Davaar: