The History of Football Park
Footy Park as it's affectionately known, was built in 1973 by the SANFL and opened in 1974. At the time it was the largest sports stadium in South Australia. The first football match was between Central Districts and North Adelaide on the 4th of May 1974 with North Adelaide's Barry Hearl kicking the first ever goal.
Football Park under construction (Source: ABC NEWS)
It was constructed at a cost of 6.6 million dollars (~ 62 million in 2018 dollars).
In 1984 with help from the State Government, the SANFL added four light towers. From then on all night games were held here for the next 16 years.
When the Adelaide Crows joined the AFL in 1991 and Port Adelaide in 1997, new corporate "superboxes" were built on top of the southern concourse, stretching from the scoreboard around to the members grandstand. The following year (1998) the stadium got its first video super-screen, superseding the old scoreboard located above the tunnel in the south-east corner. The old scoreboard remained in place till the very end.
The members grandstand was extended in 2001 with the opening of the new Northern Stand, adding 7,000 new seats. The new grandstand were fitted with individual plastic seats, and the rest of the stadium was upgraded with this in 2004, seeing an end to the immensely unpopular aluminum bench seating.
The all-time-record-crowd at Football Park was 66,897 when Sturt defeated Port Adelaide in the 1976 SANFL Grand Final.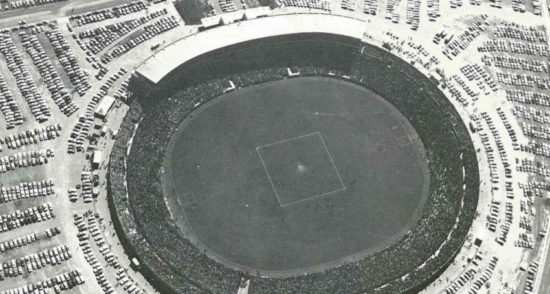 Concerts
Major artists held concerts at Football Park over the years, including ABBA, The Rolling Stones, Alice Cooper, U2, Elton John, Dire Straits, Neil Diamond, One Direction, Bon Jovi, and Robbie Williams.
Abandoned and finally Demolished
The Adelaide Crows football club and Port Adelaide football club played their last home games at Football Park in 2013, with both clubs moving to the Adelaide Oval in 2014.
On November 28 2014 the SANFL sold the land and the AAMI Stadium precinct to a housing developer for $71 million dollars.
For 4 years the stadium sat abandoned.
It was the home of South Australian football for 40 years. So many battles were fought and lost. Many of you will no doubt be able to look back on fond memories of being there on game-day. In late 2018 the grandstands were torn down, with the final leveling of the site completed just a few days ago…