Location: Eastern Adelaide

Normally I would write about the history of the Carmelite Monastery and the impact the Carmelite Nuns had on Adelaide and its people. However, this time, I'd like to frame it a different way; around the debate on whether or not locations are disclosed.

Over the years, we've been contacted by many photographers asking to know where such a place is, so they too can see and photograph the amazing spaces we find. And we get that.
Over the years, we've been asked by many film studios and budding videographers who want access to the places we find, to do a short zombie apocalypse film or music video. And we get that.
A large proportion of the sites we're allowed to photograph is done so with strict restrictions — mainly, what photos can be published and when they can be publicised. For the owners who don't wish their site identified, we give it an obscure name.
So what would happen if we did disclose locations?
For sure, there are a billion better photographers than me out there – you'd see way better photos! And sure, we'd love to see the works of budding videographers, as well as some zombie-apocalypse films and music videos (or even some fast-paced drone racing) coming out of Adelaide.
But there's also another side that most people don't think about…
Keep in mind that this building is heritage listed; which means the community wants it kept for future generations.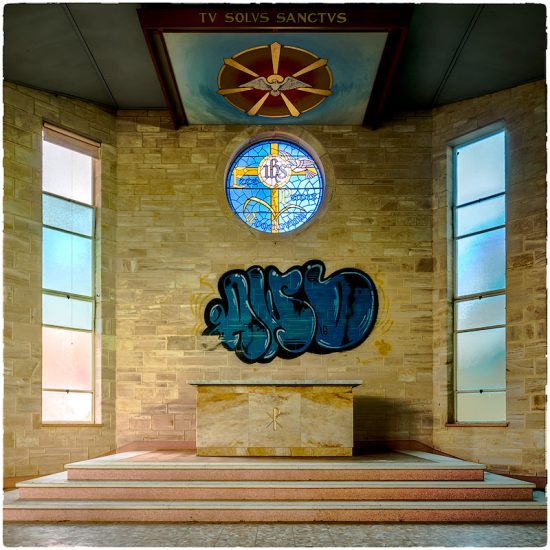 Keep in mind the Adelaide community offers a "Free Wall" under the Morphett Street bridge for local graffiti artists to paint, as well as all the other numerous locations the community deem it acceptable. Did they really have to choose a church?
So should we really be disclosing locations?
We can't turn back time and erase the graffiti and put back the stolen bell and leadlight window. Below are my best efforts to bring you a true photographic representation of the Carmelite Monastery during the summer of 2014/15. A visit now would only lead to disappointment.
Keep up-to-date with what we're exploring in and around Adelaide; and follow us in real time by following our Instagram feed:
awesomeadelaide
or our Facebook feed:
Awesome Adelaide
.
Also, to read more about awesome Adelaide places to explore, take a look at our
Site Map
.