Scottish baker James Calder and his wife, Margaret (née Balfour), were bound for Melbourne when the trials of a long sea voyage led them to disembark in the newly-established town of Adelaide instead. That decision in 1852 marked the start of a South Australian baking dynasty that was to last for the next 150 years.
Elizabeth Balfour
Elizabeth Balfour was the mastermind behind the company's first Tea Rooms, and later its successful cafés.
In 1894, after her family's devastating business losses during the depression of the 1890s, Elizabeth Balfour at the age of 53 stepped up determined to rebuild her family name. She opened what was to become the famous Adelaide Balfour's Cafe at 74 Rundle Street (now 72 Rundle Mall). Elizabeth would have hardly imagined how successful her new venture would become, because for the next 110 years there would be a Balfours Café at 74 Rundle Street.
She modelled the building with women in mind — the cake shop facing the street and the ladies' lounge with bright wallpaper and attractive furnishings on the same level. Upstairs was modelled for the gentlemen; with a smoking lounge.
In 1900, the first public electrical power was being supplied throughout Adelaide. In 1902, electricity was installed inside Balfours Café and "beautifully ornamented mirrors" were added to lighten up the long, narrow Ladies' Lounge. It was an atmosphere designed to entice fashionable women.
In 1920, street re-numbering in Adelaide changed the Balfour's Café address to 72 Rundle Street (later to become Rundle Mall)
Extensive Re-modelling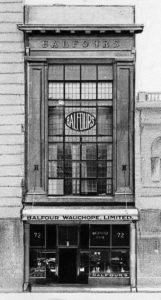 In the early 1920's, one of Adelaide's most noted architects, Louis Laybourne-Smith, designed the upper levels of Balfour's Café, adding the distinctive glass and steel studio-style window facade that you see today. The newly designed Cafe was officially opened on September 30, 1924 with the windows flooding the upper levels of the cafe with natural light. It is in this state that the building remains today.
Balfours' product range begins to focus on pies, pasties, sausage rolls, custard tarts and donuts, rather than the biscuits of the early years. It was at this time one of Balfours' signature products is born: the frog cake.
Many of you would remember the classic Balfours advertisement that ran on television in the 90's.
Balfours Café catered for the people of Adelaide until its closure in 2004.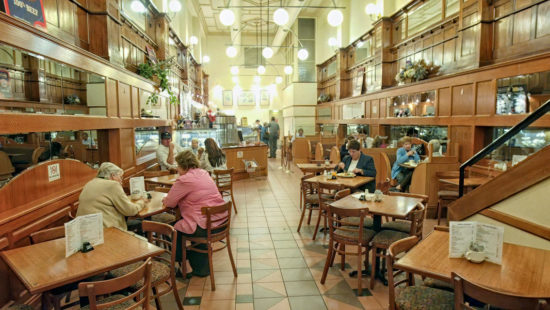 While exploring the building over the last couple of years we found it has structurally remained pretty much the same since its 1920s renovation except for some internal false walls and faux floors. The original Balfours Cafés' ceiling is still evident along with the adorned wall mirrors. Behind the heritage-listed facade, the original Balfours insignia can still be found.